Water Treatment Specialists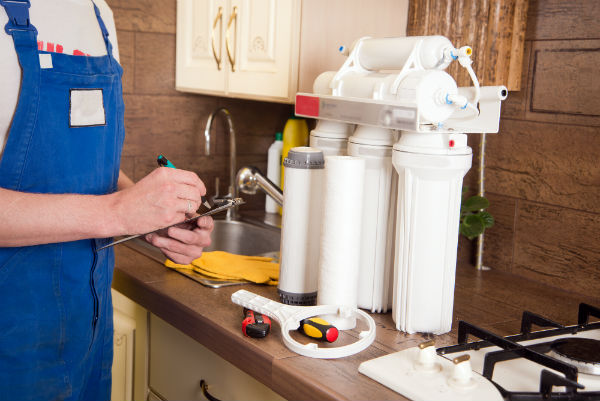 Perfect Comfort has years of experience as a local Orange County and Hudson Valley contractor, and that includes water treatment expertise. Nothing is more important than having access to the cleanest water possible.
The bad news is that there are still some homeowners who aren't taking this seriously and implementing a system to get purified water directly from the tap. The good news is that you have several options for cleaning that water, and we're here to help make that possible.
We're not just here to install your purification system; we're here to teach you methods you can use to get better water. We'll work with you to ensure that you get the water treatment method that's best suited for your specific needs.
Water Purification - Ultraviolet Treatment
Professional installation for water treatment is like arranging for air cleaners; it enables you and your family to have access to purer necessities. Ultraviolet water purification is considered the most effective when it comes to disinfecting bacteria.
This method of water purification uses UV rays to penetrate harmful pathogens. This is how you destroy illness-causing microorganisms and end up with cleaner water.
Water Neutralizer
A water neutralizer is also called a pH neutralizer system because it elevates the pH of your water. Water with lower levels of pH is considered acidic and not a quality of water to be used for consumption.
We offer systems that are designed to improve the actual water quality and not just the taste, making it safer for drinking. For any of these water treatment solutions, call our contractor team here in Orange County and start improving your water, and quality of living.
We Provide Plumbing Repairs in the Following Towns in New York
Washingtonville, NY | New Windsor, NY | Cornwall, NY | Goshen, NY | Chester, NY | Salisbury Mills, NY | Blooming Grove, NY | Middletown, NY | Monroe, NY | Tuxedo Park, NY | And More
If you are looking for an Orange County NY & Hudson Valley, NY, Water Treatment Contractor please call us at (845) 497-1005 or complete our online request form.
Recent Articles
How To Drain A Water Heater To Prevent A House Flood

If your water heater leaks, you can do several things to minimize the effects of flooding. And there are some things you can do to prevent significant leaks from happening in the first place. Generally, a water heater will last anywhere from 7 to 12 years…

Read More


3 Useful Tips To Save Money On Your Summer Cooling Costs

With summer finally here, most of us have a laundry list of things that we want to do now that the sun has arrived and warmer temperatures have come with it. Most of us see summer as the prime time for family cookouts, vacations, trips to the water, and much more, and while most of us know that it's going to happen already, some of us tend to still be surprised when we see our energy bills start to spike during the summer months.…

Read More