How To Drain A Water Heater To Prevent A House Flood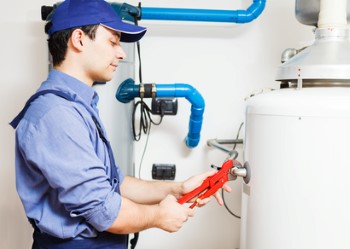 If your water heater leaks, you can do several things to minimize the effects of flooding. And there are some things you can do to prevent significant leaks from happening in the first place. Generally, a water heater will last anywhere from 7 to 12 years. The most common leak occurs from rusting inside the tank. Neglected water heaters don't last as long as those that are flushed out and tuned up every year. You can get a water heater tune up from your local plumber.
There are modern water heaters you can install that aren't made of steel with some that have a lifetime no-leak warranty. Traditional steel water heater tanks will eventually rust out over time. But remember that not just the tank can rust and leak, but the plumbing connections can too no matter what type of water heater you have. If it's not feasible to go ahead with a water heater replacement, you can find out what to do to avoid flooding if your older water heater leaks.
Here is some information on how to drain the water heater to avoid a house flood and some different products out there that can be installed to avoid flooding altogether.
Prevent Water Heater Flooding With An Automatic Water Shut Off Valve
An automatic water shut off valve can be installed to prevent flooding. This valve has sensors that are placed under the water heater or in the drip pan to detect moisture. It is installed on the plumbing pipe that supplies fresh water to the water heater and the sensors are put in place.
The sensors send a signal to the control panel when a water heater leak is detected. The system will sound an alarm and immediately and automatically shut off the valve to turn off the water supply. There are advanced units which can send a text or email as well as connect to your home alarm system.
This is a very inexpensive flood prevention device that is well worth installing. However, even if you have an automatic water shut off valve, the water that is sitting in the tank can leak all over the home. If the alarm goes off, you'll need to drain the water heater as quickly as possible. Here's how.
How To Drain An Electric Water Heater
Turn off the power to the water heater at the breaker. Do this before anything else to avoid electric shock.
Turn off the water supply to the water heater which would be located on the cold inlet pipe. If the valve looks like a wheel, turn it clockwise as far as it will go. If it has a valve handle and a base that looks like a ball, turn it 180 degrees.
Connect a garden hose to the drain valve located near the bottom of the tank and run it outside to the ground. Make sure the water hose end at the outside is on a lower level than the connection end at the tank so all the water will drain properly. Open the drain valve where the hose is connected by turning the wheel counter clockwise.
How To Drain A Gas Water Heater
Follow the same procedures above except when turning off the power. There will be a dedicated gas shut off valve on the gas line which leads to the tank. If you smell gas, remove yourself and family from the home and call the gas company. Locate the meter outside the house and turn the gas valve 1/4 turn from ON to OFF.
It is not uncommon for a plumbing or gas valve to break if it has been neglected for some time. This is why it's so important to have a service technician test the system and ensure that nothing needs to be replaced. Avoid floods and avoid leaks with proper water heater maintenance service today.
If you need help with Water Heater Draining, a water heater tune up, or any other plumbing service in Orange County, New York, call us at (845) 497-1005 or complete our online request form.
Recent Articles
How To Drain A Water Heater To Prevent A House Flood

If your water heater leaks, you can do several things to minimize the effects of flooding. And there are some things you can do to prevent significant leaks from happening in the first place. Generally, a water heater will last anywhere from 7 to 12 years…

Read More


3 Useful Tips To Save Money On Your Summer Cooling Costs

With summer finally here, most of us have a laundry list of things that we want to do now that the sun has arrived and warmer temperatures have come with it. Most of us see summer as the prime time for family cookouts, vacations, trips to the water, and much more, and while most of us know that it's going to happen already, some of us tend to still be surprised when we see our energy bills start to spike during the summer months.…

Read More