ORANGE COUNTY NY & HUDSON VALLEY, NY FURNACE REPLACEMENT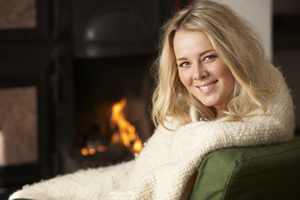 While many newer furnaces are built to last, older gas and oil furnaces may be dramatically behind compared to today's energy efficiency standards. Outdated furnaces not only cost more money to operate, they may not be providing your home or business with optimum heating.
At Perfect Comfort we are experts at providing our customers with Energy Star rated heating systems that do more than provide a money-saving solutions to residential and commercial heating - we're in the business of providing optimum indoor comfort. Our Orange County NY & Hudson Valley, NY furnace replacement experts can show you exactly what systems will benefit you based on your specific situation and sizing needs, and will ensure you get the heating system that's right for your budget.
Furnace replacement may seem daunting and expensive, but with the help of our professional heating contractors, you can rest assured you will get the right system at the right price, and save money in the long run on your heating bills.
Whether you need a new furnace because your old heating system is beyond repair or you are interested in learning more about some of the tax credits available by having a new, Energy Star rated furnace installed, Perfect Comfort is here to help. Contact your contractor at Perfect Comfort today to learn more about our oil and gas furnaces, and how you may be eligible for tax credits by investing in a new furnace replacement.
Services Our Orange County NY & Hudson Valley, NY Furnace Replacement Contractors Provide
Furnace Replacement
Energy Star Rated Furnaces
Furnace Installation
Heating Service
Gas Furnaces
Oil Furnaces
Heating Installation
Heating Contractor
Heating Systems
Contractor
Orange County NY & Hudson Valley, NY Furnace Replacement
Furnace Replacement in Orange County NY & Hudson Valley, NY
We Provide Furnace Replacements in the Following Towns in New York
Washingtonville, NY | New Windsor, NY | Cornwall, NY | Goshen, NY | Chester, NY | Salisbury Mills, NY | Blooming Grove, NY | Middletown, NY | Monroe, NY | Tuxedo Park, NY | And More
If you are looking for a Orange County NY & Hudson Valley, NY Furnace Replacement Contractor please call us at (845) 497-1005 or complete our online request form.
Recent Articles
How To Drain A Water Heater To Prevent A House Flood

If your water heater leaks, you can do several things to minimize the effects of flooding. And there are some things you can do to prevent significant leaks from happening in the first place. Generally, a water heater will last anywhere from 7 to 12 years…

Read More


3 Useful Tips To Save Money On Your Summer Cooling Costs

With summer finally here, most of us have a laundry list of things that we want to do now that the sun has arrived and warmer temperatures have come with it. Most of us see summer as the prime time for family cookouts, vacations, trips to the water, and much more, and while most of us know that it's going to happen already, some of us tend to still be surprised when we see our energy bills start to spike during the summer months.…

Read More