MAYBROOK'S PREMIER PLUMBING & HVAC SERVICE PROVIDER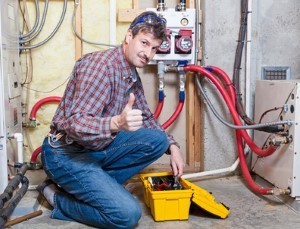 If you've recently experience some problems with your heating & cooling system and need repairs to be done, simply pick up the phone and call Perfect Comfort. We are Maybrook's preferred HVAC contractor. We offer everything from repairs and maintenance to full system installation and replacement. We work on all major systems such as standard HVAC, furnace, and even boilers. We also offer full plumbing service for homeowners in Maybrook. If you have leaky faucets or a stubborn drain that will not allow water to smoothly through it, we can full restore your plumbing back to new.
We Offer Heat Pump Service
The most important component in your home's heating system may be your heat pump. After all, without it, there is no hot air whatsoever. Even the most well built heat pumps will break down from time to time. When they do it's important to hire a heating service that you can depend on to either fix your heat pump or replace it with a new one. We specialize in heat pumps and can work with any heat pump for any standard heating system. We can arrive at your home, evaluate what's wrong, and then give you recommendations on what we can do to solve the problem. Don't let a heat pump keep the rest of your system from working properly. Call us today and let us repair your heat pump.
We Offer Emergency AC Service
When the weather is extremely hot outside, the last thing you want is for your air conditioner to go out leaving your family stranded. So if you need fast service without the wait, then call on Perfect Comfort to help you right away. We arrive promptly at your doorstep with all tools and equipment necessary to do the job. We can quickly diagnose your system's problem and fix it in half the time as our competitors. We never overcharge or take advantage of our clients in an emergency, and we provide long term solutions for a short term dilemma. Don't compromise your family's safety or comfort. Call us right away!
Complete Heating & Air Conditioning Installation
One of the most important investments you will ever make as a homeowner is in a brand new heating & air system. After all, there are many benefits to a new unit such as higher efficiency, money savings, and increased home value. So why not do it right with professionals who have decades of combined industry experience. We can install all types of systems into your home including standard HVAC, furnaces, boilers and even new heat pumps. No matter how large or complicated your home's floor plan is, we can custom design your system and air duct work to provide warm or cool air into every room. You'll love the results!
HVAC Repairs You Can Count On
When your heater or air conditioner goes out, it's always a hassle. At Perfect Comfort we make HVAC repair easier than ever with a service that is headache-free, cost-effective and gets the job done right the first time. Our air conditioning repair expertise extends to both residential and commercial systems. When you contact us we will arrive on-site, give your heater or Air conditioner a complete inspection and identify exactly what the problem is. We then go to work to fix your equipment and have it running in peak condition once again. We are committed to providing you with absolute satisfaction from start to finish.
The Services We Provide In Maybrook, NY
If you are looking for a Maybrook HVAC contractor please call us at (845) 497-1005 or complete our online request form.
Recent Articles
How To Drain A Water Heater To Prevent A House Flood

If your water heater leaks, you can do several things to minimize the effects of flooding. And there are some things you can do to prevent significant leaks from happening in the first place. Generally, a water heater will last anywhere from 7 to 12 years…

Read More


3 Useful Tips To Save Money On Your Summer Cooling Costs

With summer finally here, most of us have a laundry list of things that we want to do now that the sun has arrived and warmer temperatures have come with it. Most of us see summer as the prime time for family cookouts, vacations, trips to the water, and much more, and while most of us know that it's going to happen already, some of us tend to still be surprised when we see our energy bills start to spike during the summer months.…

Read More