WHY YOU SHOULD CONDUCT AN AIR CONDITIONING TUNE-UP THIS SPRING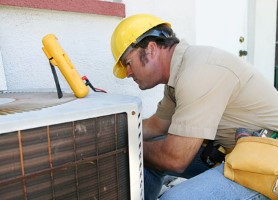 For the past several months, your furnace has been keeping your Salisbury Mills home and family comfortable. As such, it is likely that you have not given much thought to your air conditioner. However, as we have entered spring, it is just a short time before we begin to depend very heavily on our air conditioners. As such, now is the perfect time to conduct maintenance that will ensure that your air conditioner provides for your comfort needs all summer long.
At Perfect Comfort, our Salisbury Mills air conditioning contractors specialize in AC tune-up services. We can inspect your entire HVAC system to determine if there are any problems. Our technicians can then repair or resolve those issues on the spot. You are guaranteed to be satisfied by all of the following benefits.
Air Conditioning Tune-Ups Promote Energy Efficiency
In this day and age of high energy prices, any way that we can improve the energy efficiency of our homes is highly rewarding. During the late spring and early summer, our air conditioners use the majority of energy that enters our homes. As such, improving the energy efficiency of your air conditioner can save a great deal of money.
By conducting your an annual air conditioning tune-up during the spring, you ensure that your AC system operates as efficiently as possible all summer long. Therefore, scheduling this service now is the best way to maximize all of its benefits.
Air Conditioning Tune-Ups Prevent Damage
Perhaps the most important reason to conduct air conditioning tune-ups during the spring is to prevent your system from becoming damaged. Because your air conditioner has been dormant for months, it may not be ready for the heavy demands that your family will place on it during the summer.
At Perfect Comfort, our Salisbury Mills air conditioning contractors can ensure that your HVAC system is ready to provide for all your comfort needs this summer. During our air conditioning tune-up services, our professionals will resolve any lingering problems with your system so that you can rely on it to perform when your family needs it.
Air Conditioning Tune-Ups Extend Service Life
The two above-mentioned benefits have a great effect in the long-term as well. By conducting annual air conditioning tune-ups in the spring, you put your AC unit in the best position to last for as long as possible. Because your air conditioner will operate more efficiently, it will not need to be on for as long of a time. Because you prevent major damage from occurring, your air conditioner will be in a better condition. By postponing the need to replace your air conditioner, AC tune-ups help you get the most out of your investment.
If you need to hire a professionally licensed air conditioning contractor in Salisbury Mills, call Perfect Comfort today at 845-497-1005, or fill out our online request form.
Recent Articles
How To Drain A Water Heater To Prevent A House Flood

If your water heater leaks, you can do several things to minimize the effects of flooding. And there are some things you can do to prevent significant leaks from happening in the first place. Generally, a water heater will last anywhere from 7 to 12 years…

Read More


3 Useful Tips To Save Money On Your Summer Cooling Costs

With summer finally here, most of us have a laundry list of things that we want to do now that the sun has arrived and warmer temperatures have come with it. Most of us see summer as the prime time for family cookouts, vacations, trips to the water, and much more, and while most of us know that it's going to happen already, some of us tend to still be surprised when we see our energy bills start to spike during the summer months.…

Read More